Columbia SIPA Leadership Dinner
Image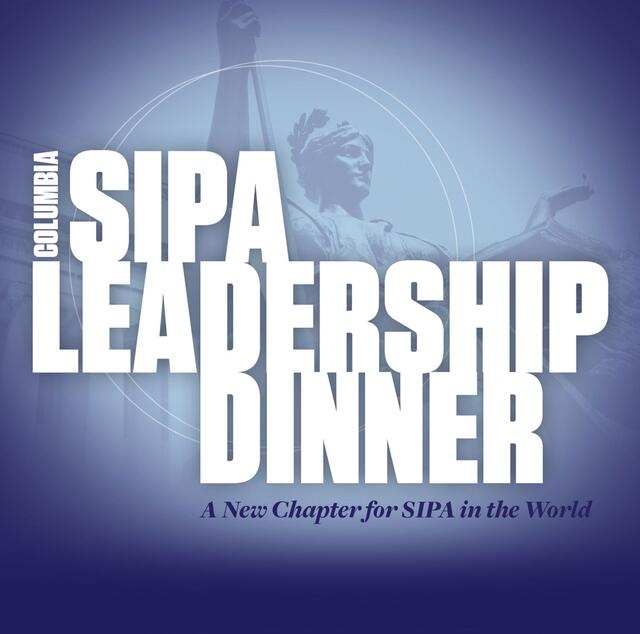 Wednesday, May 3, 2023
6:30-7:30 p.m. Reception
7:30-9:30 p.m. Dinner
Mandarin Oriental
80 Columbus Circle, New York, NY 10023
The Columbia SIPA Leadership Dinner returns in person in 2023! Join us to honor Columbia President Lee C. Bollinger, meet new Professor of Practice Hillary Rodham Clinton, hear from acclaimed journalist Claire Shipman, and learn about Dean Keren Yarhi-Milo's bold vision for Columbia SIPA's future. 
All proceeds from the Columbia SIPA Leadership Dinner help underwrite critical financial aid for SIPA's remarkable students, the next generation of global leaders and policy makers.

A new chapter

for SIPA in the world.
Special Guest
Former U.S. Secretary of State
Former U.S. Senator from New York
Professor of Practice, School of International and Public Affairs (SIPA)
Presidential Fellow, Columbia University
Featuring
Dean, School of International and Public Affairs (SIPA)
Adlai E. Stevenson Professor of International Relations
Columbia University
Lee C. Bollinger became Columbia University's 19th president in 2002 and is the longest serving Ivy League president. He is Columbia's first Seth Low Professor of the University, a member of the Law School faculty, and one of the nation's preeminent First Amendment scholars. With frequent collaborator Geoffrey R. Stone, Bollinger is the co-author of A Legacy of Discrimination: The Essential Constitutionality of Affirmative Action (2023) and co-editor of Social Media, Freedom of Speech, and the Future of our Democracy (2022), National Security, Leaks and Freedom of the Press: The Pentagon Papers Fifty Years On (2021), and The Free Speech Century (2018). With Agnès Callamard he co-edited Regardless of Frontiers: Global Freedom of Expression in a Troubled World (2021).

In 2017, Bollinger founded Columbia World Projects, an initiative that mobilizes the University's researchers and scholars to work with governments, organizations, businesses, and communities to tackle global challenges. In 2021 he launched the Columbia Climate School, the first new School at the University in 25 years. Bollinger serves on the Pulitzer Prize Board, and is a member of the Council on Foreign Relations. From 2007 to 2012, he was a director of the Federal Reserve Bank of New York, where he also served as Chair from 2010 to 2012. He also served as a director of Graham Holdings Company (formerly The Washington Post Company), concluding his term in 2021. 

As president of the University of Michigan from 1996-2002, Bollinger led the school's landmark civil rights litigation in Grutter v. Bollinger, a Supreme Court decision that for the first time upheld the constitutional right of colleges and universities to engage in affirmative action to advance diversity in higher education. A member of the American Academy of Arts and Sciences and the American Philosophical Society, Bollinger is also the recipient of multiple honorary degrees from universities in the United States and abroad.

Hillary Rodham Clinton has spent over five decades in public service as an advocate, attorney, First Lady, U.S. Senator, U.S. Secretary of State, and presidential candidate. As 67th U.S. Secretary of State, her "smart power" approach to foreign policy repositioned American diplomacy and development for the 21st century. Clinton played a central role in restoring America's standing in the world, reasserting the United States as a Pacific power, imposing crippling sanctions on Iran and North Korea, responding to the Arab Awakening, and negotiating a ceasefire in the Middle East.  Earlier, as First Lady and Senator for New York, she traveled to more than 80 countries as a champion of human rights, democracy, and opportunities for women and girls. She also worked to provide health care to millions of children, create jobs and opportunity, and support first responders who risked their lives at Ground Zero. In her historic 2016 campaign for President of the United States, Clinton won 66 million votes. She is the author of ten best-selling books, host of the podcast You and Me Both, and founder of the global production studio HiddenLight Productions. She is married to former U.S. President Bill Clinton, has one daughter Chelsea, and three grandchildren: Charlotte, Aidan, and Jasper.

Claire Shipman MIA '94, '86CC is a journalist, author, and public speaker. An expert on confidence and women's leadership, she's written four New York Times bestselling books, The Confidence Code, The Confidence Code for Girls, Living the Confidence Code and Womenomics. She has a new book coming out in June focused on women and power—The Power Code. Her co-author on all five has been the BBC's Katty Kay.

Shipman spent 15 years at ABC News, reporting on politics, international affairs to social issues. Before moving to ABC, she covered the White House and the Clinton administration for NBC news. Shipman also spent a decade at CNN, where she covered the White House, and five years at CNN's Moscow bureau covering the collapse of the Soviet Union. She's received numerous awards for her reporting, including a Peabody, a DuPont, and an Emmy.  Shipman holds a graduate degree in international affairs from the School of International and Public Affairs at Columbia University and a Bachelor of Arts in Russian Studies from Columbia College.

Keren Yarhi-Milo is the dean of Columbia University's School of International and Public Affairs and the Adlai E. Stevenson Professor of International Relations. An expert in international security, crisis decision making, and political psychology, Yarhi-Milo is an award-winning scholar whose work is grounded in an ongoing dialogue with policymakers. As a scholar and teacher, Yarhi-Milo bridges the academic and policy worlds, focusing predominantly on how leaders make foreign-policy decisions regarding the use of force. She is known for coining selective attention theory and was a student of Robert Jervis, who became a deep personal mentor to her.

In 2022, Yarhi-Milo won the International Studies Association's Emerging Scholar Award, which recognizes "scholars who have made through their body of publications the most significant contribution to the field of security studies." Her most recent book, Who Fights for Reputation? The Psychology of Leaders in International Conflict (Princeton, 2018) was recognized by the American Political Science Association as best book in foreign policy and by the ISA as the biennial outstanding book in foreign policy.

Yarhi-Milo joined the Columbia faculty in 2019 after a decade at Princeton University. Before becoming dean in July 2022, Yarhi-Milo served for two years as director of SIPA's Arnold A. Saltzman Institute of War and Peace Studies and as Arnold A. Saltzman Professor of War and Peace Studies. She earned her PhD at the University of Pennsylvania and a BA, summa cum laude, from Columbia University in 2003.
Tickets and sponsorships must be purchased by April 3, 2023 to be listed in the program.
PURCHASE TICKETS & SPONSORSHIPS
Tickets can also be purchased by contacting SIPA Development at [email protected] or 212-851-9607. 
Contributions are fully tax-deductible to the extent permitted by law. The nondeductible portion of each ticket is $265.
Please consider a donation to support financial aid if you are unable to attend the dinner.
Contribution Levels
Luminary Sponsor | $100,000
Champion Sponsor | $50,000
Visionary Sponsor | $25,000
Innovator Sponsor | $15,000
Platinum Ticket | $5,000
Gold Ticket | $2,500
Silver Ticket | $1,500
Recent Graduate Ticket | $500
Champion Sponsors
Reed D. Auerbach IF '81, MIA '82, '85LAW and Adrienne Petite Auerbach
Robin Lewis '73GSAS, '75GSAS, '77GSAS and Jasmine Wang
Visionary Sponsors
Anonymous
Abby Elbaum '92CC, '94BUS and Rick Elbaum '93LAW
Anuradha T. Jayanti and Martin C. Milewski
J.Q. Pictures Limited
Michael M. Roberts MIA '86 and Patricia Roberts
Juan A. Sabater
Arnold Saltzman's family
Innovator Sponsors
AIG
Anonymous
Tiffany A. Herlands
King & Spalding LLP
Jian Ni MIA '01 and Zhe Sun '99GSAS, '00GSAS
OLEX. Partners
David B. Ottaway IF '63, '68GSAS, '72GSAS and Marina S. Ottaway '74GSAS
Amelia E. Prounis MIA '87 and Haralambos Raftopoulos
Shoshana Shendelman '03GSAS, '04GSAS, '05GSAS
Romita Shetty MIA '89 and Nasser Ahmad
Sullivan & Cromwell LLP
Lulu C. Wang '83BUS and Anthony W. Wang
Supporters
Lisa Anderson '76GSAS, '77GSAS '81GSAS and Marc Rauch '69CC
Anonymous (2)
Ahmad Bilal Arif MPA '16
Mila Atmosudirdjo Tuttle '96CC, MIA '05
Han Bao MPA '21
Roger Baumann IF '84, MIA '85 and Julie Baumann
Alexandra Bezeredi '88JRN
Shreya Bishnoi MPA '22
Allida Black
Dahna Black MIA '20
Michael Brandmeyer IF '94, '94BUS, MIA '95
Katherine Brehm MIA '21, '21BUS
Catherine Cai MPA '15
Victoria Cai MIA '20
Colin Chan MPA '17
Evelyn Cho MIA '09
Christina Constantine MIA '17
Carlos Cuevas '05CC, MPA '12, '12PH
Habib Enayetullah MPA '91 and Tania Rahmatullah
Susan Feagin '74GS
Alexander Georgiadis MIA '85
Susie Gharib MIA '74 and Fereydoun Nazem '75BUS
Richard S. Goldberg
Eric Goldsmith
Gordon Mitchell Goldstein '90CC, MIA '94, IF '94, '98GSAS, '98GSAS
David Greenwald '83LAW and Beth Greenwald
Vlada Gromova IF '16, MIA '17, '18GSAS,
Stacia Hachem MIA '87
Coco Han MPA '02
Zach He '12CC and Claire Jin MIA '19, '19BUS
Kirsten Imohiosen MPA '03
Merit E. Janow '88LAW
James Jordan MIA '71, '75BUS
Wonny Kim MIA '20
Edward S. Knight
Rebecca Koike MPA '07
Robert I. Kopech '76BUS, MIA '77
William Gerald McElroy III MPA '14
Matthew McMahon MIA '18
Sreedhar Menon
Marie Metz MIA '10
Felicia Milongo MPA '22
Shariah Pope
Gerald M. Rosberg
Ann K. Sacher '85BC and William B. Sacher
Patricia Sandor MPA '20
Supriya Saxena MIA '09
Sandra Shahinian MIA '76
Gadi Shamah 
Jessica Shaw MIA '20
Mitchell D. Silber MIA '05
Anne-Marie Slaughter
Akanksha Thakur MIA '09
Lynn Thoman
Mozelle Thompson '76CC, IF '79, '81LAW
Xudan Wang MPA '22
Sarah White MIA '97 '97BUS
Sunny Xu MPA '22
Lingzhi Yin MPA '20
Sophia Zhang MPA '21
Elise Zhao MIA '19
Guangyu Zhao MPA '17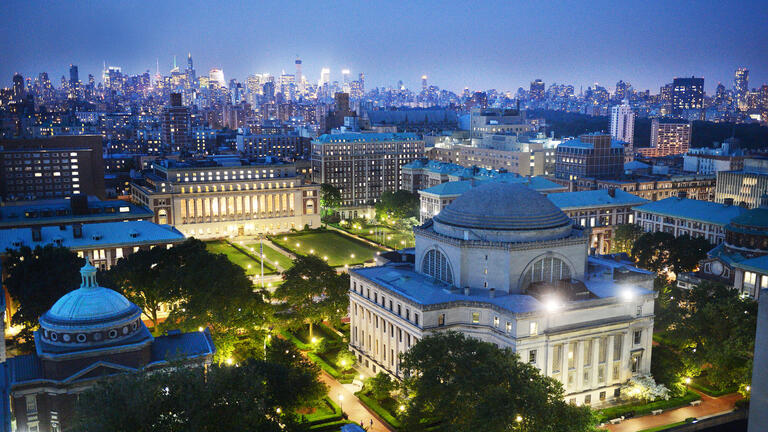 Contact Us
SIPA Office of Alumni and Development
For more information please contact: 
the SIPA Development Office at: [email protected]