Admissions Blog
It's Just Moving to NYC, No Biggie!
By Shally Baloch '23
Posted Jan 06 2023
The transition to living and studying in New York City can be so exciting and at times, exhilarating (it certainly was for me), but also scary, overwhelming, and a little intense (I definitely felt those feelings too). Today, I have brought to you some of my favorite people at SIPA to talk a little about their experiences moving to NYC– Sofia Martinez (EPD, DAQA), Leah Hickert (ISP, ICR and Middle East Regional), Karoline Marum (IFEP, DAQA), and Neatric Norwood (HRHP, TMAC).
What was unexpected about moving to NYC?
Sofia: The most shocking thing about moving to NYC was the amazingly high availability of pizza! Pizzeria's are the NYC equivalent of London pubs - one in every corner (can't complain). Access to such a variety of foods and activities in all areas of the city has been truly fantastic. They say NYC is the city that never sleeps and, while this is not true of myself, there is definitely never a dull moment.
Karoline: I was surprised at how much green space there is in the concrete jungle. Coming from a Norwegian city that's surrounded by seven mountains, I was happy to explore the many parks that New York has to offer.
Leah: There's often a stereotype that cities are cold and unwelcoming, but I was shocked by how friendly and welcoming the people at SIPA—and in New York City—have been! Some of the best conversations in your day will happen at your local bodega, or with classmates you just met.
Were you overwhelmed and how did you manage that?
Sofia: Having grown up in London, the transition to NYC wasn't too challenging as I'm accustomed to living in a cosmopolitan city! However, exploring the cultural differences between the two cities has been very interesting :)
Karoline: Adjusting to the American education system and grad school definitely felt overwhelming in the beginning. Personally, I feel that the best way to handle stressful periods like that is take one step at a time, reach out to TAs, go to office hours with questions and use the resources available - people are happy to help!
Leah: I'm from Colorado, so I find myself missing nature often, especially when I'm stressed. Therefore, I spend a lot of time in Central Park, either for workouts or for picnics.
How does being at SIPA help with the transition to big city living?
Sofia: If I'm overwhelmed I usually spend time with my housemate or SIPA friends to distract myself from my schoolwork for a little while. This really helps me relax and motivate myself. Furthermore, I try my best to do at-home workouts if I know I have a busy day ahead in order to improve my mood!
Karoline: It's easy to forget you're in New York when running up and down the stairs of SIPA. It's easy to connect with people in class, events or through clubs. It's truly a wonderful place with even more wonderful people from all over the world.
Leah: I credit SIPA for connecting me to my biggest support system in the city: my friends!
How was the search for housing?
Sofia: As an international student, finding housing is definitely a little complex. Looking outside of Columbia housing often required American guarantors which was not easy for me to find. However, I was very fortunate in terms of housing as I doubled up with a family friend from the U.K. who thankfully has American citizenship which made house-hunting infinitely easier (shoutout to Estelle's mum for giving birth in New York - a visionary lol). I have been living downtown throughout my studies at SIPA and while it's a little removed from the student community, it's been great being so close to Chinatown and Soho!
Karoline: Finding housing through Columbia Residential was pretty convenient.* There were no pictures of the apartments, but I had the blueprints to go off of and was also put in touch with my future roommates.
Leah: My roommate and I found our apartment on StreetEasy. The turnover for NYC apartments is very quick, so we waited just a few weeks before we moved to start looking. We rented the apartment sight unseen, but fortunately, we had a friend in the city who could check it out before we signed the lease.
Neatric: I actually used Columbia graduate housing , because I was worried about the housing search. It made things so much easier and without the hassle of broker fees and endless housing appointments. *
*Note from Shally: Columbia Housing is not guaranteed for everyone who applies. You can find more information about housing here. Also a 2019 blog post specifically about housing can be found here.*
Image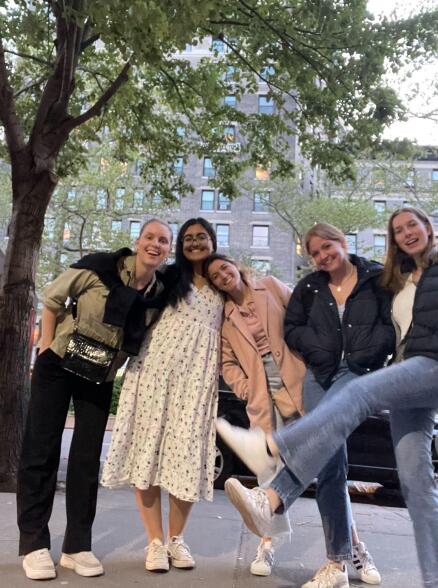 What do you do for fun outside of SIPA?
Sofia: As I'm sure most young people claim, my interests are varied; from reading to sudoku to music. In particular, I really enjoy sports and exercise but admittedly neglect these activities once the New York weather turns chilly. I'm working on getting better with that this winter and have signed up for a half marathon in December! That said, the most fun thing I've done in New York is hanging out with my SIPA friends (special mention to Shally whose apartment never fails to make me feel like I'm in an episode of Friends).
Karoline: Study! Just kidding. I love to go out with friends, check out museums and new spots around the city, run, and ski.
Leah: One of the best things about living in NYC is that you are never bored. I especially love hanging out with my friends, at the MET, in Central Park, or at some quirky bars downtown.
Neatric: I usually hang with friends, attend sporting events, and go ice skating weekly. It can be overwhelming, but having the community at SIPA helps you find your place in a city of chaos.
(Photo: Karoline, Shally, Sofia, Leah, and Cecilia doing the aforementioned "hanging out with friends, "celebrating the end of finals in May 2022!)