Admissions Blog
International Dual Degree Perspective with Tom Jouvet '23
By Fitri Mayang Sari '23
Posted May 23 2023
Image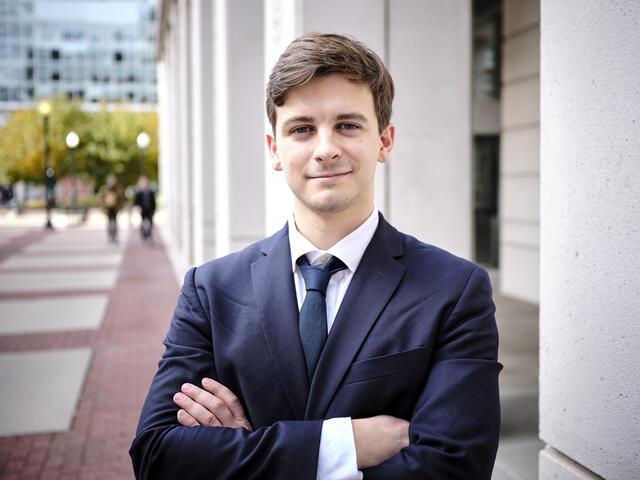 Tom Jouvet '23 studied an MPA with International Finance & Economic Policy concentration and Leadership, Innovation, Design Specialization. Tom started his first year at Sciences Po's MPP program focusing on Energy, Environment and Sustainability.
Hello Tom, thank you for taking time for this chat. What did you do prior to SIPA?
Before SIPA, I pursued graduate studies in computer & electrical engineering and energy engineering. As a second-year GPPN student, I did my first year at Sciences Po's Master in Public Policy focusing on Energy, Environment, and Sustainability.
Interested in effective altruism, I was part of a humanitarian student group that led initiatives in France and Asia. I had the opportunity to conduct humanitarian internships in Vietnam and Laos and to create a partnership with a Cambodian NGO. At the time, my interest in science was clear but I became more and more convinced that social and environmental challenges require public policy solutions. 
Driven by public service to address social and environmental challenges, I shifted my focus toward public policy, performing two internships in the French Parliament. I assisted elected officials on climate policy, crafting over 125 proposals to achieve France's net-zero strategy. In doing so, combining scientific knowledge with socioeconomic concerns to drive effective public policies became my career goal. 
Last year, I was advocating in a student environmental think tank, Déclic, where we crafted environmental policy proposals for policymakers. I suggested two proposals on fossil fuel divestment and public aid's environmental conditionalities. As well, I represented 70 of our members on the stakeholder committee of the French energy company Engie Renewables, to voice our concerns. At the same time, I co-organized with my rhetorics student group Conférence Olivaint a consortium on "The State in the Face of Climate Change". 
Last summer, I was a sustainable finance analyst intern at the French Agency for Ecological Transition (ADEME) where I developed indicators to assess the decarbonization of financial institutions, under the ACT4Finance methodology, a joint voluntary initiative of the UNFCCC secretariat Global Climate Agenda. I obtained a better understanding of socio-economic evaluation and the integration of environmental and climate issues in the climate strategies and ESG practices of financial institutions. The development of three indicators (governance and risks, R&D investment, and objectives) allowed me to understand the different transition levers of economic actors, including trajectories compatible with the IEA-Net Zero by 2050 scenarios, a shared governance of environmental issues supported by expert committees and participation in research on the subject
What was your reason for choosing a dual degree program? Why Sciences Po and SIPA?
Before choosing a dual degree program, I carefully considered my academic and professional goals. I realized that a Master in Public Policy (MPP) would provide me with more quantitative and analytical skills, while a Master of Public Administration (MPA) would help prepare me for decision-making positions. The complementary nature of these two programs made the dual degree particularly appealing.
Sciences Po stood out to me for several reasons. First, it has a strong reputation and high rankings in politics and international studies, placing 2nd in the 2021 QS Rankings for Politics & International Studies and boasting a network of 90,000 alumni, including head of states, high civil servants, and NGO leaders. Second, the school has a diverse international culture with 49% of its students coming from outside of France, representing 150 nationalities. Finally, Sciences Po's Climate Initiative roadmap (2020-2023) emphasizes the importance of addressing environmental challenges, an important factor for me. The courses also closely matched my interest in socioeconomic topics around environmental issues and were complementary to my former engineering education.
Columbia University's SIPA also caught my attention due to its Ivy League status and strong connection to international organizations. The MPA program at SIPA allowed me to focus on energy and environment policy, offering courses in areas like natural resources law and climate change policy. The management specialization at SIPA interested me because it covers essential topics like cost-benefit analysis, big data in public policy, and leadership and innovative policy making. The possibility of orienting my curriculum according to my desires and my educational needs seemed essential to me to focus on the skills I was looking to develop.
Can you explain to us the application process for a dual degree program?
The application process for a dual degree program at Sciences Po and SIPA involves several steps and takes into account various criteria to ensure that applicants are well-suited for their chosen institutions and programs. The main criteria include academic excellence, motivation for the chosen institutions and programs, references, work experience, and personal background. On the Sciences Po website, you can choose between two programs: a double degree and a single master. So I applied for the double degree MPP/MPA with Columbia and the single master MPP at Sciences Po. In the application, you have to indicate which MPP specialty at Sciences Po you want to do and why.
During the summer last year, we know that you did an internship at the French Agency for Ecological Transition (ADEME) as a sustainable finance analyst. How was your internship experience?
During the summer of last year, I interned at the French Agency for Ecological Transition (ADEME) as a sustainable finance analyst. The experience was enriching as I developed indicators to assess the decarbonization of financial institutions under the ACT4Finance methodology.
How did you find the internship opportunity? Do you have any tips for peer students who want to follow your footsteps?
I found the internship opportunity through networking and unsolicited applications by examining the organization charts of French public administrations. I targeted administrations close to my interests around the environment in ministries, state agencies, and others and contacted the departments closest to my preferred topics. My advice for peers is to be proactive, attend relevant events, and network with professionals in the field.
As a last semester student, you are now working on a capstone project, what is your project about?
This semester, I was on a capstone project with the World Bank, focusing on pension funds' greening, in a team of 11 international students. We were studying the strategies and policies that can help pension funds transition towards more sustainable investments. It provided insight. Complementary, I realized a sustainable investing project to provide recommendations on voluntary carbon markets for the UN Sustainable Stock Exchanges.
What kind of work do you hope to do when you graduate?
Upon graduating, I hope to work within the European Union or UN System on sustainability issues, focusing on climate policy and sustainable finance. My goal is to drive effective public policies that balance planetary boundaries with social safeguards to achieve a desirable future.