Admissions Blog
A Graduate Memoir: From Banda Neira, Indonesia To Manhattan, New York
By Fitri Mayang Sari '23
Posted May 30 2023
The Banda Islands were swapped for Manhattan 350 years ago.
The Banda Islands were once at the heart of the world's biggest and most important trade — in spices. A part of what was historically known as the Spice Islands and now Indonesia, they consist of 10 tiny specks in the vast Banda Sea and have a population of just 15,000.
On July 31, 1667, an extraordinary deal was struck: England officially swapped two of the small islands for a swampy Dutch colony once known as New Amsterdam — now New York. The rest, as they say, is history.
[Ian Williams, NBC News, 2017]
- - - - -
Image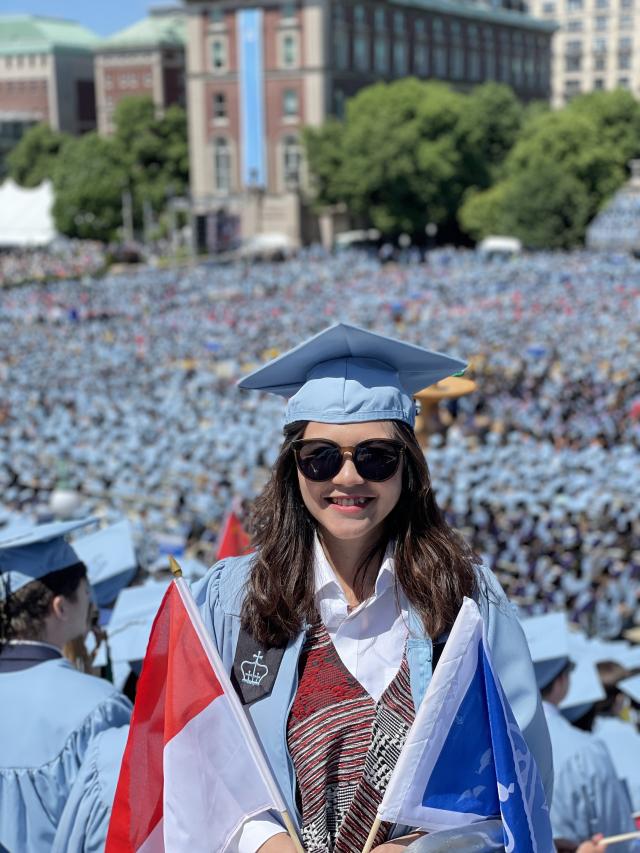 Studying abroad has been my dream since elementary school. Born and raised in a small town in South Sumatera, Indonesia, I had few examples of scholars who received any degree from foreign countries. But I kept my goals alive and secretly.
2014-2017
During this period I have been rejected cumulatively six times by Fulbright, Chevening, and Australia Awards Scholarship (AAS). Apparently my profile was not strong both professionally and personally. Fortunately I used this period to acquire another bachelor degree in Accounting and developed my organizational experiences. I joined thousands of hours of volunteering, competitions and conferences such as Singapore Model United Nations (SMUN), The European International Model United Nations (TEIMUN), Conference of Australian and Indonesian Youth (CAUSINDY), Hollaback! Jakarta, etc.
2019-2020
Reflecting on my failures, I sought a mentor to guide me through the school applications and scholarship process. Thankfully I met Edi Saputra, a SIPA Alumni class 2021, via Indonesia Mengglobal. Edi offered me useful insights on how to improve my essays and resume. In March 2020, we both cheered for my admittance to SIPA class 2023. One problem has been solved, yet I have another problem, getting a scholarship.
As someone from a simple upbringing and as a public servant, my only way to study abroad was through scholarship. The Indonesia Endowment Fund for Education (LPDP) scholarship was my best hope. Unfortunately in March 2020, it announced to postpone the scholarship openings due to the Covid-19 pandemic, until further notice. Perfect! On one hand, I had no funding clearance while on the other hand I had a SIPA deposit almost due.
Without securing a scholarship, I made a brave decision to defer my study at SIPA for a year and paid the deposit. Luckily, this decision has allowed me to apply for the LPDP scholarship which was opened only to those with Letter of Acceptance (LOA) from 14 world's top universities including Columbia University. Praise to the Lord, I successfully secured the scholarship.
2021-2022
Fall 2021 was the new chapter in my life to finally pursue a master degree in a prestigious university and to live abroad. A mixed feeling collided between excitement and anxiety. Would I be academically capable to keep up with the challenging subjects and heavy assignments? Indeed, it was super challenging but glad I survived and I entered the second semester with grace and more confidence.
September-December 2022
This was my second and final year at SIPA, and I was not alone this time. My husband whom I married in the summer moved to New York with me. As a newlywed who was still adjusting to many things, life indeed tested us to the best of our abilities: finding an apartment and a job for him while I started a new semester and worked part-time for the SIPA Admissions and Financial Aid Office. For international students with a monthly allowance like me, it is so complicated to rent an off-campus apartment in New York. It requires a guarantor or income of 40 times rent, a credit score, a deposit of one month rent, a broker fee (15% of annual rent), amongst other documents. As well as being able to work comfortably, my husband must apply for Employment Authorization Document (EAD) and Security Social Number (SSN) which both applications take approximately 60 to 90 days to process. However miraculously, my husband's EAD and SSN were approved in 10 days. So he was able to get a job at Amazon fulfillment center in New Jersey.
February 2023
Image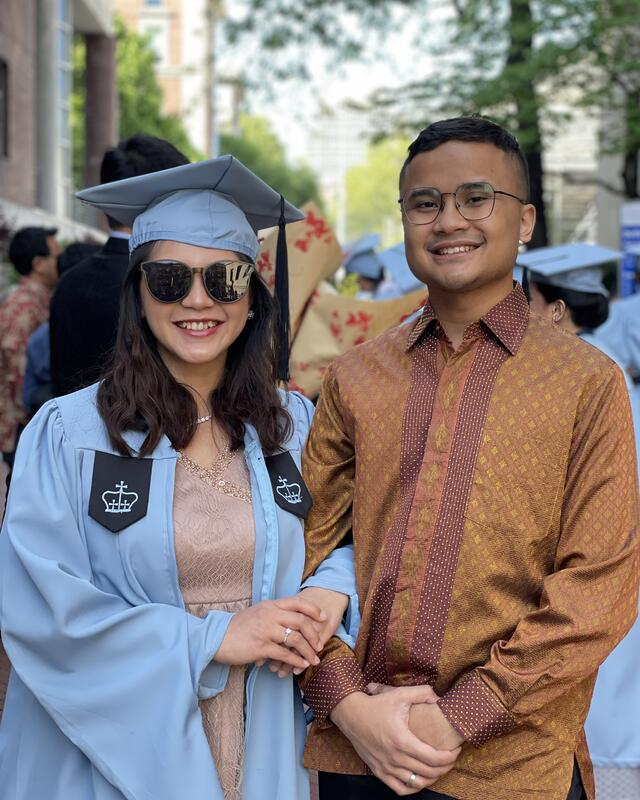 "That's what life is about: People come and go." - Cecelia Ahern
Three months before graduation, my husband and I found out that we are expecting a baby. In the same month, we received an obituary notice from home that my loving mother had passed away. My heart was broken, but I believe that a mother's psychology affects the baby strongly. Thus, for the sake of the baby I am carrying, I got to hold myself together quickly. I thanked my husband for his endless support, and I thanked all of my lovely friends and colleagues who expressed their caring either through messages or showed up at my apartment.
May 2023
Good things take time! Nine years since my first scholarship attempt and after numerous failures, ups and downs, I finally graduated. It takes a village to be where I am now. I am thankful for the opportunity, for the bitter and sweet moments, for all the lessons I learned, for the blessings I earned, for the people I meet, for every hardship and ease, and for everything. I am thankful for my husband, my parents and in-laws, my family, my good friends, my SIPA fellows, my professors, my colleagues at SIPA Admissions Office, my country fellow at Columbia Indonesian Society (CIS), and my sponsor LPDP. Foremost, my highest gratitude to the Almighty.
Happy Graduation SIPA Class 2023!
"Take Time Like The River That Never Grows Stale.
Keep Going and Steady. No Hurry, No Rush."
- Rumi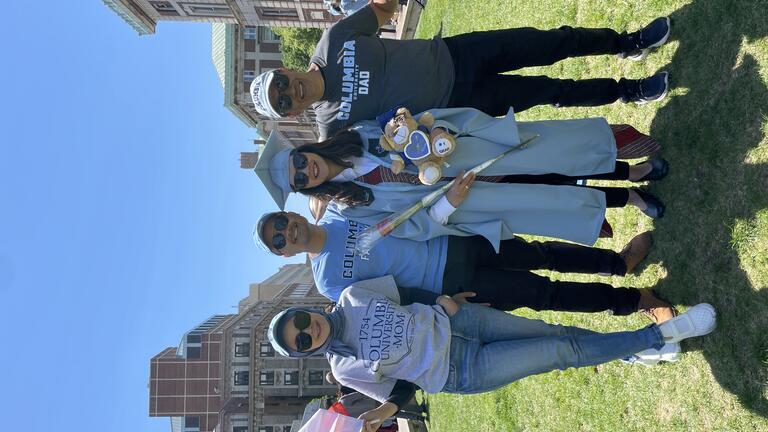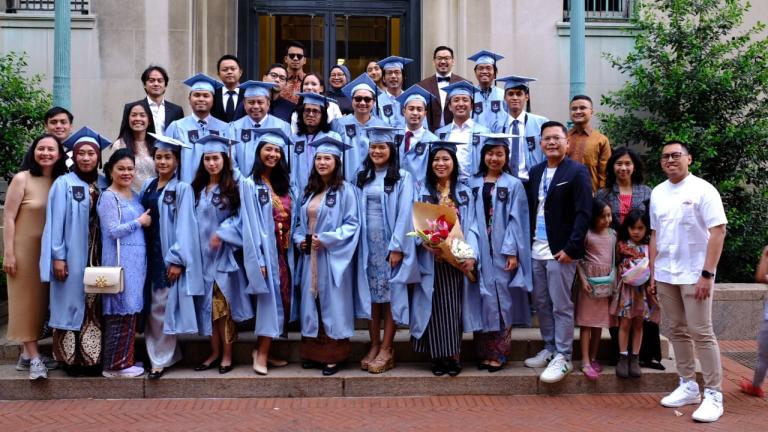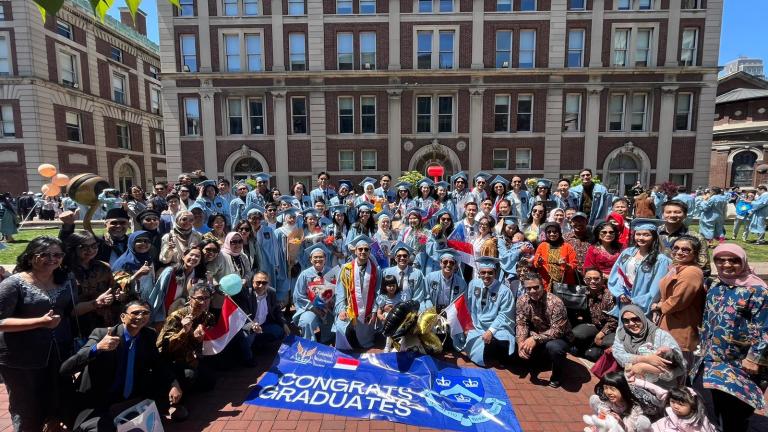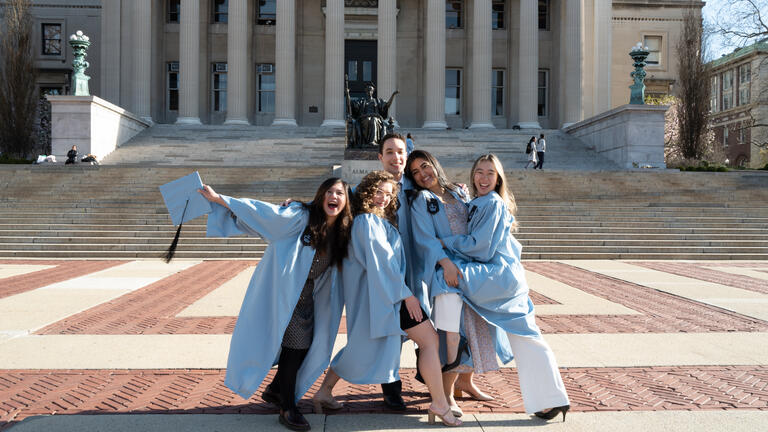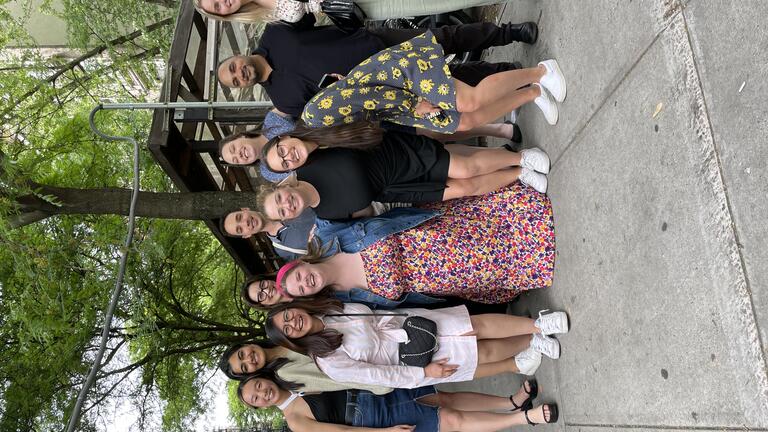 Officially we are Columbia Mom, Dad, Family and Alumni
The Growing Number of Indonesian Students at SIPA
The Grand Indonesian students and their families in Columbia University
Jules, Ricardo, Shally and Clara thanks for sharing the Admissions Program Assistant title together
Thank you SIPA Admissions Office for being my home