Admissions Blog
Columbia's Global Reach: Ann-Kathrin Merz (MPA '23) Presents Her Team's Low-Carbon Ammonia Roadmap at the Innovation for a Cool Earth Forum (ICEF) in Japan
By Clara Li '23
Posted Dec 21 2022
Attending graduate school is a strategic decision. Whether you are pursuing a MA degree to pivot careers or to strengthen your network, it is important to establish your priorities and, subsequently, shape your experience to fulfill them. Ann-Kathrin Merz was set on attending SIPA for the global reach of the Center for Global Energy Policy and its renowned scholars, including Dr. Julio Friedmann, an authoritative expert on carbon management. 
From the onset, Ann-Kathrin has been closely involved in research opportunities across various capacities. Earlier this semester, she traveled across the world to Japan to present her team's research on a low-carbon ammonia at the Innovation for a Cool Earth Forum (ICEF). Her experience highlights how students can leverage their time and the resources in the broader Columbia community to develop expertise. Her ability to establish herself as a thought leader and credibility as a scholar is truly incredible and we are excited for her to share more about the experience. 
Image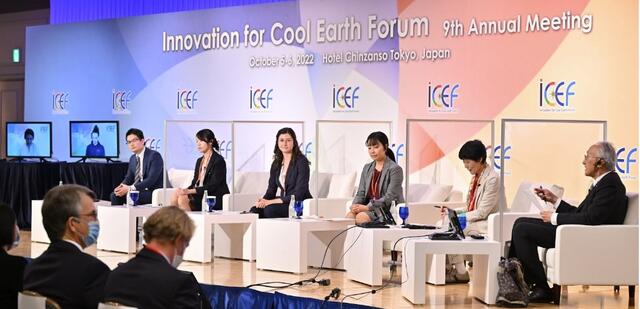 How did you first get involved in working on the ICEF Low-Carbon Ammonia Roadmap and what was your research focused on?
My involvement in the ICEF Low-Carbon Ammonia Roadmap goes back to 2018, when I first met Dr. Julio Friedmann at the Council on Foreign Relations. After his impressive presentation on carbon capture, I knew I wanted to work for him. Through the Center for Global Energy Policy, from day one at Columbia University I did just that. Researching industrial decarbonization with hydrogen on his team was a fabulous learning experience. Soon thereafter Dr. Friedmann introduced me to the startup First Ammonia, where I continued working on the future of the hydrogen economy. Having one foot in academia through CGEP and another foot in industry through First Ammonia, I was able to bring a unique perspective on the future of ammonia. Hence, Dr. Friedmann and David Sandalow invited me to join their team drafting a low-carbon ammonia roadmap for Japan's Ministry of Economy, Trade, and Industry (METI) and their New Energy and Industrial Technology Development Organisation (NEDO).
  The roadmap was an exciting opportunity to explore the potential roles ammonia can play in a net-zero world (read the full roadmap here). Many people have heard of hydrogen's utility for decarbonizing industry and transport, but are less familiar with the benefits of taking that extra step of adding nitrogen to hydrogen to create ammonia. One could say the importance of ammonia has been hiding in plain sight, as ammonia production sustains more than half of the world's population as the primary ingredient in nitrogen fertilizer but remains relatively unknown.
  For the roadmap, every scholar was responsible for drafting a chapter. For my chapter, I focused on analyzing existing and future low-carbon ammonia production methods. I spent hours dissecting chemistry and engineering journals, as well as carried out industry interviews. My favorite part of the research was our weekly meeting where we shared our research findings, discussed the significance of new developments for ammonia, as well as debated future applications. 
Can you provide an overview of the conference goals, its structure, and the focus of the panel that you spoke on? How was your research received and what were the main aspects that the audience members were keen to engage more on?
The Innovation for a Cool Earth Forum (ICEF) is organized by the Japanese government to promote innovation to address climate change. At the conference, our team presented our findings from the low-carbon ammonia roadmap. Given the intergenerational nature of climate change, I further spoke on a panel for youth experts to share their view on necessary steps to tackle climate change.
David Sandalow and I presented our roadmap research in-person, with two scholars, Zhiyuan Fan and Dr. Corinne Scown, joining virtually. The auditorium where we were presenting took my breath away. It was the largest platform I had been given to speak on, which felt both like a privilege and a responsibility. Fortunately, we were well-prepared. I had practiced my part countless times. Here I owe a shout-out to my high school speech and debate teacher, Gay Brasher, who first taught me to fill the room when I speak. The presentation went smoothly. The audience shared common concerns on ammonia's future, raising questions such as whether ammonia or methanol should be the clean fuel for the shipping industry. Without going into all the details here, I began by explaining that methanol has a carbon molecule, meaning it still emits carbon when burned. I knew my answer was on the right track when Nobuo Tanaka, the former Executive Director of the International Energy Agency sitting in the front row, started nodding.
Going to Japan was especially exciting, because the country and its industries are leading the development of innovative hydrogen and ammonia technologies. Japan lacks the bountiful renewable energy resources found in the United States and Europe. To meet its energy needs in a carbon-free future, Japan plans on importing 3 million tons of ammonia per year by 2030 and 30 million tons per year by 2050. Japanese companies are developing applications to use ammonia as fuel. For example, the Japanese power generator JERA is planning on replacing all of its coal with ammonia, while Mitsubishi Power is developing an ammonia-capable gas turbine for operation in 2025. In short, Japan is an amazing place to witness the future of the hydrogen economy take form. I was amazed by the level of expertise I met at the conference.
What was your favorite part(s) of this experience? 
One of the highlights of the experience was meeting the remarkable members of the ICEF steering committee. After our presentation, David Sandalow and I had lunch with Nobuo Tanaka. As an energy super nerd, discussing everything from European energy security to nuclear waste with the former Executive Director of the International Energy Agency was surreal. That night the conference also hosted a dinner to celebrate the youth experts, where I had a fabulous conversation with the CEO of Bloomberg New Energy Finance, Jon Moore. Being treated as an equal in discussions with people at the top of their fields left a strong impression on me.
I also simply loved being in Japan. At the time of the conference, Japan was still closed to tourists for Covid, meaning visits to popular tourist sites such as the Meiji Shrine were exceptionally serene. I enjoyed learning about Japanese culture and customs. I became especially appreciative of the frequent bowing in Japanese culture. I was amazed to sit in a coffee shop and watch the guests, as they were leaving after studying for multiple hours, bow to thank the owner. I found that frequently expressing gratitude intensified the feeling. It also gave me a way to make up for the terrible state of my Japanese language skills. 
How did this conference shape your understanding of the role that climate technology plays in the global energy transition? How did these takeaways complement or, even, contradict what you have learned in the SIPA classroom?
The most formative aspect of this experience was realizing that I should not let my age prevent me from contributing to discussions on the future of the hydrogen economy. When I first started the project, I assumed that as the youngest scholar on the ammonia roadmap team, I would have less to contribute. On the contrary, I found that being at a different stage in my professional career, with a different background and network, gave me a unique perspective that ultimately enriched our discussions. Additionally, I realized that uncertainty regarding the future of the energy system has an egalitarian effect. Since no one can predict what will happen, with rigorous research and interviews, one can develop credible expertise. 
In terms of climate technology, the conference showcased the countless astounding technologies under development. The experience deepened my belief that we already have many of the solutions we need for a net-zero world, we just have to implement them. This motivates me to continue my work at the green ammonia startup First Ammonia, as I want to see carbon-free ammonia production come to fruition firsthand.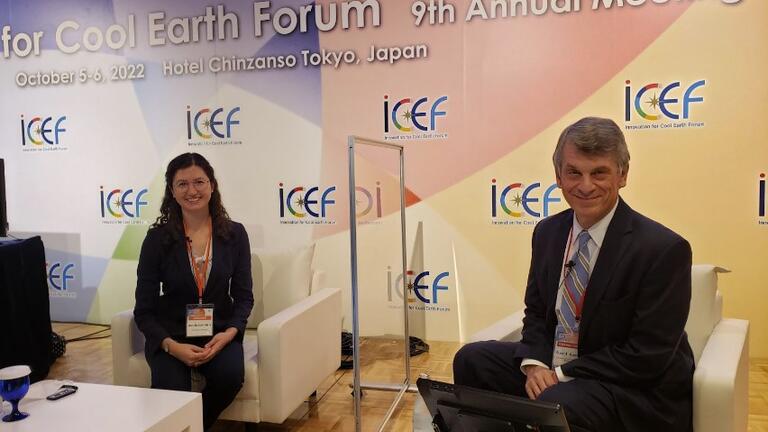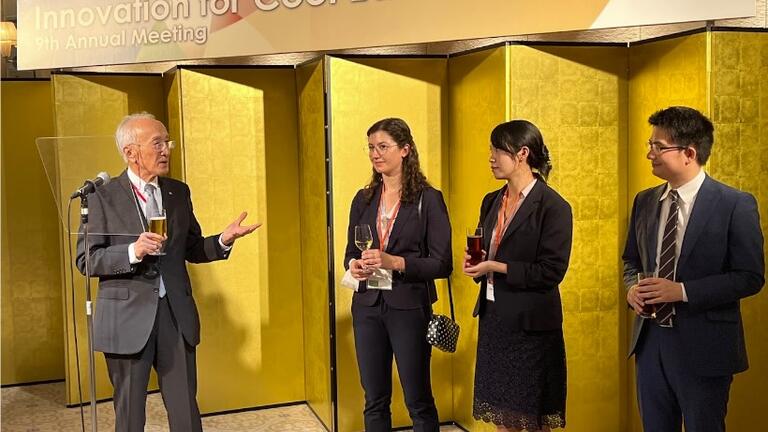 Meeting members of the ICEF steering committee during the forum.