Admissions Blog
Attending COP27 as a SIPA Student
By Ricardo Mondolfi '23
Posted Jan 23 2023
Does attending COP27 count as an excused absence? (Spoiler: Yes!)
Image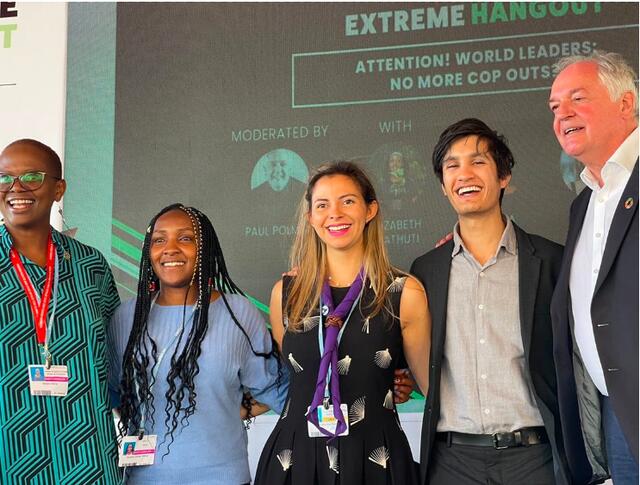 Alejandro Daly MPA '24 (fourth from left) is a first year student from Venezuela, and has been a clean air activist for several years. He recently attended the COP27 climate change conference in Sharm-el-Sheikh, Egypt, and caught up with us when he returned to SIPA to share his experience. This interview has been edited for clarity.
How did you get the opportunity to attend COP27?
I received the opportunity to attend COP27 because I've been working as a consultant for UNICEF for the last three years supporting their strategy around clean air. We created the first advocacy tool for young leaders in Latin America related to clean air, which empowered 10,000 young leaders to advocate and influence public policy around this subject. I went to COP to ensure that clean air and health was at the center of the climate agenda. 
What was it like to actually be there? What did you do? (Did you spot any celebrities or big political names?)
COP27 was a very different, engaging, and at the same time overwhelming experience. I had the opportunity to see a lot of big names, from presidents, to industry, to every single powerhouse in the topic I work on (in this case, clean air). One highlight was Dr. Maria Neira from the World Health Organization, who is one of the world's top advocates for clean air. Others included the Deputy Administrator of USAID and a few heads of state. The best part is not just seeing big names but being able to speak with them, especially during dinners and private events. That gave me a front row seat to the conversations about the future of clean air in the world.
How did your experience at COP compliment your studies?
I am an MPA-DP student, and I had never worked directly on energy despite spending time as a clean air advocate. This semester, I am taking a course called Energy Transition in Latin America, taught by Dr. Luisa Palacios and Leonardo Beltrán from the Columbia SIPA Center on Global Energy Policy. In the course we studied the needs of Latin American countries as it relates to the energy transition, which I was able to witness first-hand during the negotiations at COP27. It made me understand the behavior of certain countries and organizations such as the International Energy Agency, as well as this year's historic agreements around "Loss and Damage" compensation for climate change. 
Have you been able to bring your experience into the classroom and share with your classmates?
Yes! I have brought back my experience to several courses. The main question I brought back, which resonated with my classmates, is about the role of civil society in the future of climate action. This year's negotiations showed that the timeline and demands of the climate movement are changing, which means the strategy and advocacy need to change too. We have discussed the role of countries–particularly in the Latin America and the Global South– in prioritizing energy transition and reducing emissions. COP was an opportunity to witness in real life what we learn here at the classroom at SIPA, and SIPA allowed me to analyze the events with a critical lens I previously lacked.
 
What are your career plans? How will your experiences and SIPA degree play a part in your future?
I want to work on clean air, making sure that short life climate pollutants such as methane are part of the climate agenda and are prioritized by nonprofits by governments as a key issue that can fight air pollution and the climate crisis. I hope SIPA can give me the technical and policy skills as well as the network to ensure that this issue is at the top of the agenda in coming years not only in Latin America, but all over the world.
Image