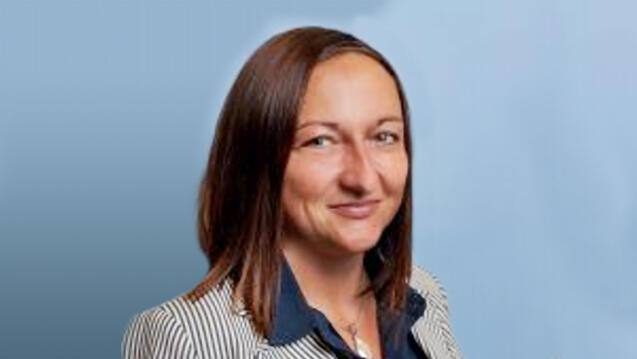 Founding Director
The Founding Director of the research initiative is Caroline Flammer, Professor of International and Public Affairs and of Climate. She is an expert in sustainable investing and the recipient of numerous prestigious awards. Among other roles, she is the President of the Alliance for Research on Corporate Sustainability, a global multi-disciplinary network of scholars fostering rigorous academic research on corporate sustainability. Professor Flammer also serves as the Chair of the Academic Advisory Committee of the United Nations-supported Principles for Responsible Investment (PRI), the largest network of responsible investors to date.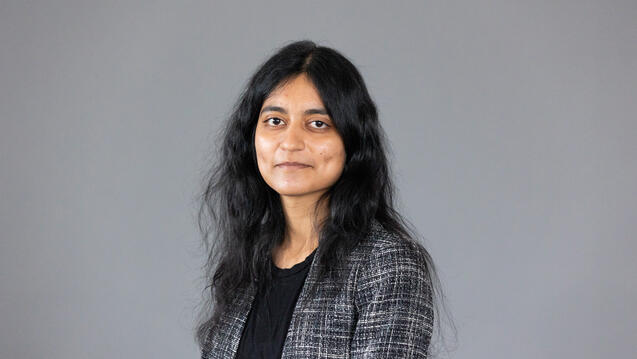 SIRI Fellows
SIRI Fellows are recognized for their invaluable insights, guidance, and support to SIRI and the field of system-level investing.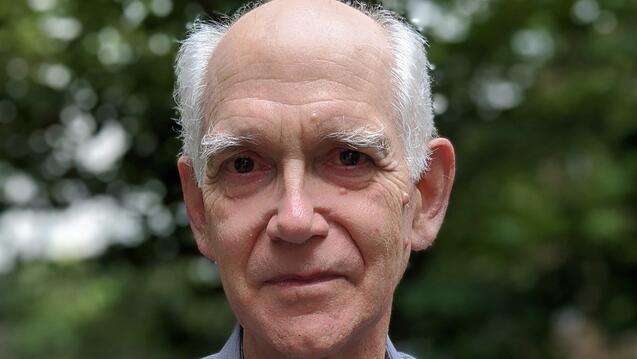 Steve Lydenberg, CFA
Steve Lydenberg is Partner, Strategic Vision for Domini Impact Investments LLC, Founder and Chairman of The Investment Integration Project (TIIP), and Founding Director of the Initiative for Responsible Investment. For over four decades he has been active in responsible investment with the Council on Economic Priorities, Trillium Asset Management and KLD Research & Analytics. He is author of numerous articles on responsible investment including, "Reason, Rationality and Fiduciary Duty" and "On Materiality and Sustainability: The Value of Disclosure in the Capital Markets". He is also author of several books on responsible investment including 21 st Century Investing: Redirecting Financial Strategies to Drive Systems Change (Berrett-Koehler, co-author William Burckart); Corporations and the Public Interest (Berrett-Koehler) and Dilemmas in Responsible Investment (Greenleaf, co-author Céline Louche). He holds a BA from Columbia College and an MFA in Theater from Cornell University and CFA Charter designation.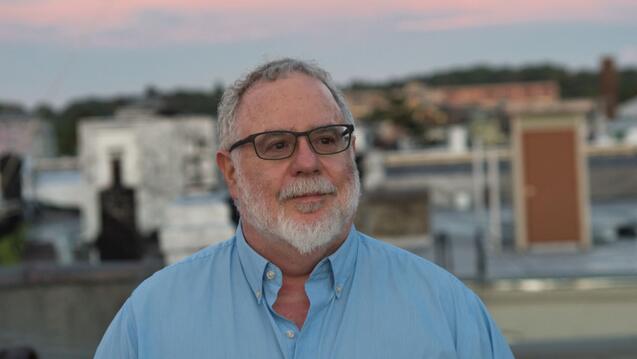 Jon Lukomnik
Forbes calls long-time institutional investor Jon Lukomnik one of the pioneers of modern corporate governance. The managing partner of Sinclair Capital LLC, a strategic consultancy to institutional investors, Jon has been the investment advisor or a trustee for more than $100 billion (including New York City's pension funds) and has consulted to institutional investors with aggregate assets of $1 trillion dollars. He served for more than a decade as the executive director of the IRRC Institute and is a former Pembroke Visiting Professor at the Judge Business School at Cambridge. Jon is a member of the Deloitte Audit Quality Advisory Committee, a trustee for the Van Eck mutual funds and serves on the Standards and Emerging Issues Advisory Group of the Public Company Accounting Oversight Board, the Board of The Shareholder Commons and the Advisory Board of The Investment Integration Project. Jon co-founded the International Corporate Governance Network (ICGN) and Governance Metrics International (now part of MSCI). He is a Senior Fellow for the High Meadows Institute. Jon's most recent book, "Moving Beyond Modern Portfolio Theory: Investing That Matters" is co-authored with Professor Jim Hawley. Their work focuses on MPT's inability to deal with systematic risk, and how investors can and do mitigate risks such as climate change, income inequality, lack of diversity, and anti-microbial resistance as a way to increase return and/or reduce risk. Jon is also the co-author of two other books about the capital markets, and more than 200 academic and practitioner papers.
SIPA and the broader Columbia University Network
The Sustainable Investing Research Initiative draws from the faculty's research expertise from the School of International and Public Affairs (SIPA) and across campus (including the Climate School, Columbia Business School, Columbia Law School, the Faculty of Arts and Sciences, and the Fu Foundation School of Engineering and Applied Sciences). SIPA and the broader Columbia academic community have extensive global expertise in understanding the challenges faced by society and the natural environment, and developing solutions drawn from their expertise in the areas of finance, sustainable development, climate change, energy and environmental sustainability, social inclusion, economic empowerment and poverty alleviation, human rights, economics and financial policy, urban and social policies, and many other areas. SIPA has a global reputation as a leading source of independent, rigorous, and evidence-based analysis of timely, relevant, and actionable matters. It is well positioned to serve as a leading international hub for scholarship, education, and dialogue on system-level investing.
Image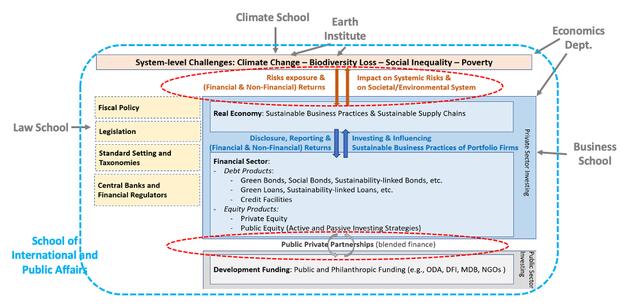 Under the leadership of President Lee Bollinger, Columbia University is strongly committed to merging the knowledge and capacities of a great research University with organizations beyond the academy that are dedicated to the advancement of human welfare.  These efforts are epitomized by Columbia World Projects and the Fourth Purpose.
Columbia University is located in New York City and hence in immediate proximity to the institutions that are central to the advancement of sustainable investing: Wall Street, international organizations (notably the United Nations), large and small businesses and NGOs, and policymaking agencies such as the Federal Reserve Bank of New York. SIPA, and Columbia University more generally already work with all these communities to utilize new insights in academic knowledge to foster positive change in the world.